Find Your Bagel From Bagel Shop In Meadow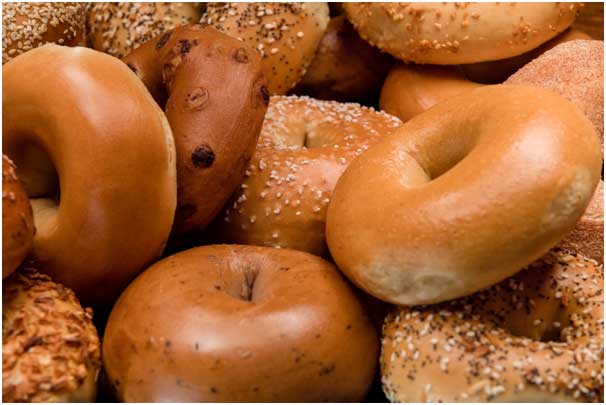 Bagel is a kind of bread. Its shape is a ring-like. After giving its shape, it is first boiled. Boiling is done for a very short period of time. And then it is baked. Wheat dough is been used here. After baking, you will get a brown and crispy covered thing. We can use seeds as a topping. These seeds will also get baked along with the baking of the bagel. You may sprinkle some salts also on its surface. In many places, these are very popular. Even they are available at many shops. So if you are looking for the best bagel, then choose the option bagel shop meadow. You are going to get the best one. At the centre of it, there is a hole, which helps in easy transportation of it, as a string can be passed through it.
The popular food
This popular baked bread rolls come in many delicious flavours. This can be savoury, sweet, soft, or crunchy. Even you can enjoy the plain one also if you use classic bagel fillings. Fillings could be cream, smoked salmon, or ham. Varieties are huge in numbers so you going to get your taste. In many large cities, it is a very popular type of food. So, if you going to search for bagels near me, then surely you going to get the many names of shops and addresses. These can be eaten toasted or plain. You can also warm it in the oven. And if you want you can eat this open or closed, just like sandwiches. It is not possible to enlist all different types of it, which all of it available in markets.
Those who love to do experiments with the food they always bring new flavours in their bagel. The simple plain one is a mixture of wheat flour, yeast, water, malt, eggs, honey, seeds, butter. For bread and bagel, the preparation of the dough is almost the same.
Types of bagels
There are many popular and commonly bagels that will tantalize your taste buds. And you will surely go to have it more. Some are enlisted below-
Chocolate chip bagels- These are filled with chocolate chips. You will taste in every bite. So, if you want to enjoy the moment, want to make it tasteful then go with bagel shop meadow.
Cinnamon raisin bagels- It is full of butter and crispy also. It is not so sweet. It contains a perfect blend of raisin and cinnamon.
Blueberry bagels- Its taste makes it a perfect breakfast. Going to make your morning- the best morning.
Onion bagels- Due to the presence of onion it becomes more delicious. It has an exotic crunchy texture.
Salt bagels- It is stuffed with cream and cheese. And make your mouth full of butter. So, you can even go with this choice.
Poppyseed bagels- These seeds are nutty. It adds crunchiness to the bagel. You are going to have a feeling of satisfaction after having this.
And there are many more types of bagels. And if you want to have any one of them, then just find out bagels near me.
The Best Bagel Store & Deli: Bagelicious
Looking for the best restaurants in East Meadow, New York? If yes, then your search is over now. We, at Bagelicous in Newyork are providing you the best experience with our fantastic menu. With us, you can enjoy all your favorite dishes, including boiled bagels, smoked fish, and homemade cream cheese and others. Additionally, we also have a variety in the beverages to give your treat a final touch.
We, at Bagelicious in the East Meadow are serving our customers since 1982, and the cherry on the cake is that our customers are satisfied with us. You can check the reviews given by our customers as well. Along with providing the delicious food, we also take care of our customers' other requirements like the service staff and the cleanliness, of course. At the preferred Bagel store & deli, you will feel like home, and the food will be like prepared in your kitchen- Fresh and healthy.
Along with best services at our restaurants, we are also providing you the facility to order your meal online with us. Yes, you can even get the breakfast delivery within 15 to 20 minutes. If you want to start your morning with some fresh meal, then we are also providing you the super-fast and delicious breakfast delivery. All you need to do is to visit our website and check out the Bagelicous menu and order online.
In case your internet is not working, or you are not in a mood to search the web, then you can easily call us and place your order on call as well. After enjoying your meal if you are having any suggestions or compliments for us, then you can also write to us at our mail address that is given at the official website. However, we request you to provide us with a chance to please you with our best services.
Bagelicious Catering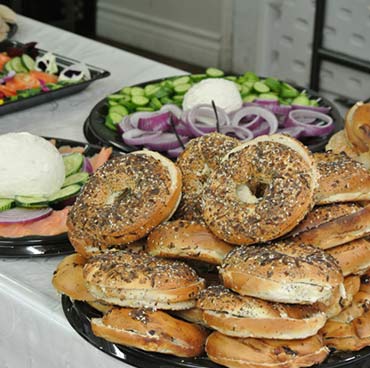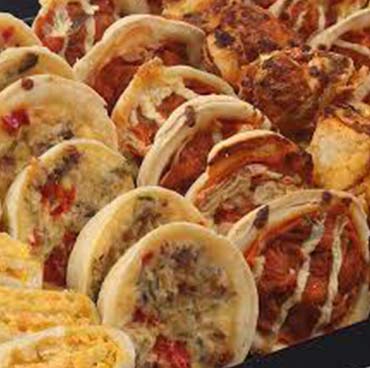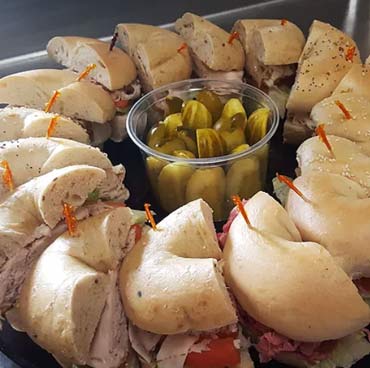 Order Catering
" Some of the best bagels around. Staff are always friendly and I've never really had to wait long for my orders other than when they have been super crowded but the food is worth the wait in my opinion.

James Giambrone.
" Food is always fresh staff is always nice and the place is always clean.big thumbs up.

Carlos Cuevas.
" I bought three dozen bagels for a weekend retreat. Ordering was quick and friendly. The bagels went over well, and the leftovers tasted reasonably fresh even a couple days later.

John Cholewa.
" My morning breakfast shop! fresh bagels of alllll kinds! cream cheese with great flavor! Clean store and Great staff!

Sharan H.