How You Can Order Breakfast Online?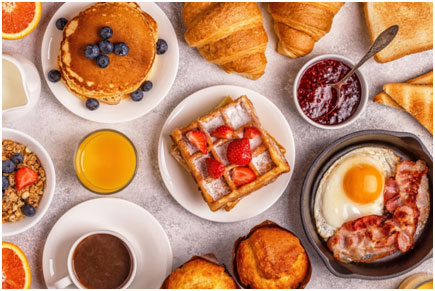 In this day and age, technology has been so much advanced and there are so many websites and applications through which you can order things online and it will be delivered on your doorsteps. Earlier, you have to go out to buy your breakfast, but not anymore you can get breakfast food delivery home and can enjoy yourself with your family and friends. Moreover, you can order your breakfast online when you are getting late for your work or in a hurry to go anywhere. Whether you want something Indian cuisine to something healthy food you will have it all.
Deliciousness at your doorsteps!
Pick a restaurant which will deliver at your place, whether it's home or workplace or any other place you want to get it to deliver for yourself or for your loved ones to make them happy you can order breakfast online for anyone just you have to set the location, choose the nearest restaurant delivering at the place and have to pick food you want to have from the menu cart. Though, fresh and appetizing food will be delivered in a while. Moreover, you can track your order through a GPS tracker system if you are eagerly waiting for your breakfast. You can place an order from sandwiches to hotdog or from hot flatbread to tacos, from nuts to salads, your online food delivery websites have it all.
The online food websites take the delivery very seriously. You won't get disappointed with their services; they will deliver your order fast and with fresh and delicious eateries. They will assure your breakfast delivers warm and scrumptious food on your doorsteps.
Perks of ordering breakfast online!
The market for food delivery is changing rapidly. Moreover, if you are a restaurant owner, you can expand your current customer base and increase your sales through an online presence. It has become vital in the existing food industry to serve the customers well. You can satiate your craving or hunger just in one click. There are some of the benefits of ordering online for both consumers and restaurants, which includes –
The customers can grab amazing deals and discounts on online orders from any nearby restaurant that is delivering on their place. They just have to place an order, add location, online transaction or cash on delivery mode payment have selected in between them. Moreover, you can track your order from being cooked to order is ready to pick, to order is on the way. They provide you with all the services.
Online orders can help restaurants to grow their business. Through, online food applications are easier to use and less time is taken. They save your location for the next order.
The customers do not have to stand in any queue to buy the breakfast; they can eat hot and fresh breakfast while sitting at home through online order.
Moreover, online food applications are free to download as well as no extra cost would be charged on ordering food or any distance fee, all you have to pay is the real food value and taxes if applicable.
The Best Bagel Store & Deli: Bagelicious
Looking for the best restaurants in East Meadow, New York? If yes, then your search is over now. We, at Bagelicous in Newyork are providing you the best experience with our fantastic menu. With us, you can enjoy all your favorite dishes, including boiled bagels, smoked fish, and homemade cream cheese and others. Additionally, we also have a variety in the beverages to give your treat a final touch.
We, at Bagelicious in the East Meadow are serving our customers since 1982, and the cherry on the cake is that our customers are satisfied with us. You can check the reviews given by our customers as well. Along with providing the delicious food, we also take care of our customers' other requirements like the service staff and the cleanliness, of course. At the preferred Bagel store & deli, you will feel like home, and the food will be like prepared in your kitchen- Fresh and healthy.
Along with best services at our restaurants, we are also providing you the facility to order your meal online with us. Yes, you can even get the breakfast delivery within 15 to 20 minutes. If you want to start your morning with some fresh meal, then we are also providing you the super-fast and delicious breakfast delivery. All you need to do is to visit our website and check out the Bagelicous menu and order online.
In case your internet is not working, or you are not in a mood to search the web, then you can easily call us and place your order on call as well. After enjoying your meal if you are having any suggestions or compliments for us, then you can also write to us at our mail address that is given at the official website. However, we request you to provide us with a chance to please you with our best services.
Bagelicious Catering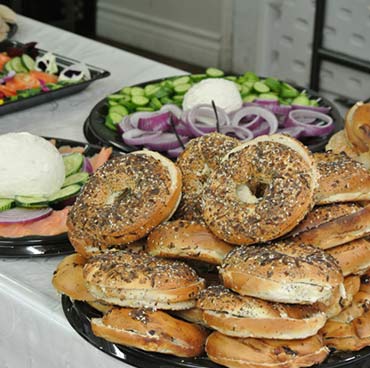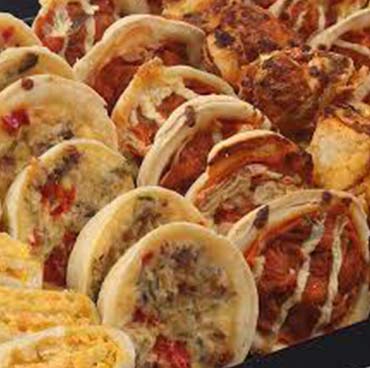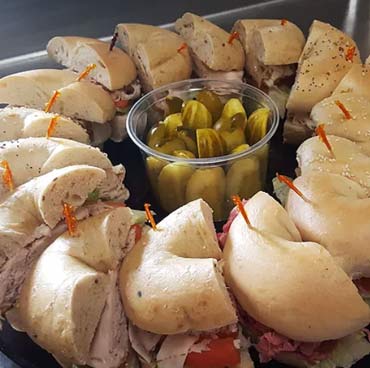 Order Catering
" Some of the best bagels around. Staff are always friendly and I've never really had to wait long for my orders other than when they have been super crowded but the food is worth the wait in my opinion.

James Giambrone.
" Food is always fresh staff is always nice and the place is always clean.big thumbs up.

Carlos Cuevas.
" I bought three dozen bagels for a weekend retreat. Ordering was quick and friendly. The bagels went over well, and the leftovers tasted reasonably fresh even a couple days later.

John Cholewa.
" My morning breakfast shop! fresh bagels of alllll kinds! cream cheese with great flavor! Clean store and Great staff!

Sharan H.