Items For Breakfast And Lunch At Bagelicious Menu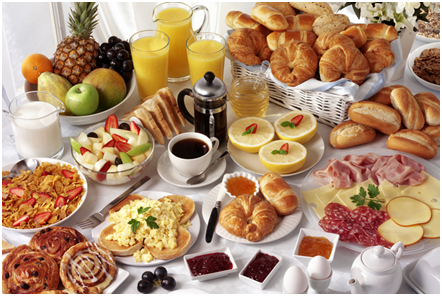 Every person eats breakfast in the morning to become fresh and active. They eat something to acquire energy to perform their task. Many people prefer to eat maximum during their breakfast, moderately during their meals and scantily at night. So, early in the morning, they eat something that is nutritious. Many people in the west eat sandwiches in the morning that are filled with vegetables and dairy products such as cheese, butter, etc. People are also fond of eating bagels and they eat it as a breakfast or as a meal. The bagel may contain sweet or savory toppings. So, they can get many types of bagels, if they view the bagelicious menu.
Menu in bagelious
They can get the finest type of bagels at bagelicious along with smoked fish or homemade cheese also. People can enjoy variety of food in this place such as beverages, appetizers, homemade salads, cold salad plates, garden chopped salads, homemade cream cheese, lunch favorites, etc. Different type of breakfast is available such as the Danyel breakfast, bones breakfast, Sunrise breakfast, Bruno breakfast, Howe breakfast, etc. If they prefer for Danyel breakfast, then they avail cracked pepper turkey, egg whites, along with honey mustard or Muenster cheese. Some people like to eat the Pope breakfast and they can get potatoes, onions, peppers and eggs. For Bruno breakfast, they get eggs, cheddar, bacon and slices of French toast. They can get egg whites, turkey or avocado for Howe breakfast when they view the Bagelicious menu.
Appetizers before the meals
The Bagel Catering Newyork provides appetizers to the customers also. Before the meals, they can eat appetizers and they can avail lox wings, whitefish, bagelwich, salmon bagelwich, herring filet etc. If they order belly box bagelwich, then they can eat salad along with pickle. The whitefish bagelwich is also served along with pickle.
Homemade salads
They can eat different types of salads such as buffalo chicken bagelwich, baked salmon salad, baked salmon bagelwich, chicken salad, roasted grilled vegetable, The salads are wholesome as they contain high-fibers. So, they should eat salads during meals and they can eat vegetarian or non-vegetarian salads.
Griddle fresh specialties
At Bagel Catering Newyork, people can order for griddle fresh specialties. People usually get breakfast for griddle fresh specialties. The different types of breakfast that they avail are blueberry pancake breakfast, French toast breakfast, banana pancake breakfast, and chocolate chip breakfast. They get the buttermilk pancake breakfast along with ham, bacon or sausage. They get the blueberry pancake breakfast along with plump blueberries and it is slightly dusted with powder sugar. The banana pancake contains the diced bananas along with buttermilk pancakes.
Lunch favorites
During the lunch time, people eat moderately and different types of lunches are available here such as the Luna Lunch, Graduate Lunch, Ludington lunch, margherita lunch etc. The tuna Luna lunch contains the recipe of munchies cheese, head meats, pickle and salads. The cheese steak lunch contains the hot roast beef, green peppers, cheddar cheese, and it is served with pickle and salad.
Cream cheese
People love to eat the cream cheese that is prepared at home because it tastes special. The type of cheese available is the cream cheese of walnut resin, scallion cream cheese, vegetable cream cheese etc.
The Best Bagel Store & Deli: Bagelicious
Looking for the best restaurants in East Meadow, New York? If yes, then your search is over now. We, at Bagelicous in Newyork are providing you the best experience with our fantastic menu. With us, you can enjoy all your favorite dishes, including boiled bagels, smoked fish, and homemade cream cheese and others. Additionally, we also have a variety in the beverages to give your treat a final touch.
We, at Bagelicious in the East Meadow are serving our customers since 1982, and the cherry on the cake is that our customers are satisfied with us. You can check the reviews given by our customers as well. Along with providing the delicious food, we also take care of our customers' other requirements like the service staff and the cleanliness, of course. At the preferred Bagel store & deli, you will feel like home, and the food will be like prepared in your kitchen- Fresh and healthy.
Along with best services at our restaurants, we are also providing you the facility to order your meal online with us. Yes, you can even get the breakfast delivery within 15 to 20 minutes. If you want to start your morning with some fresh meal, then we are also providing you the super-fast and delicious breakfast delivery. All you need to do is to visit our website and check out the Bagelicous menu and order online.
In case your internet is not working, or you are not in a mood to search the web, then you can easily call us and place your order on call as well. After enjoying your meal if you are having any suggestions or compliments for us, then you can also write to us at our mail address that is given at the official website. However, we request you to provide us with a chance to please you with our best services.
Bagelicious Catering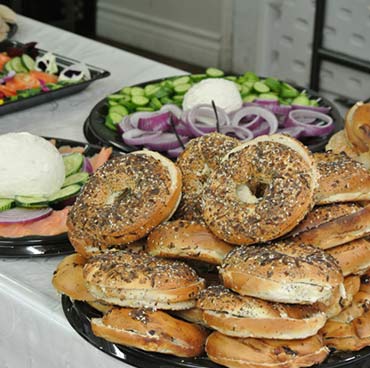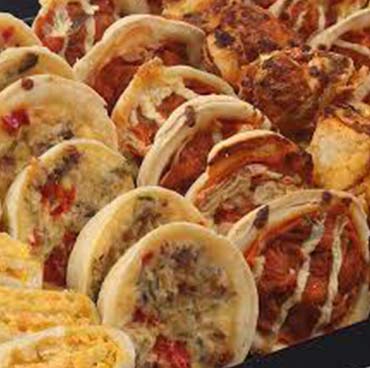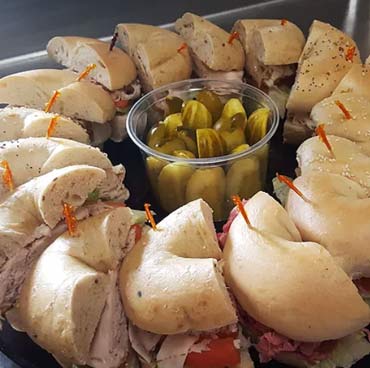 Order Catering
" Some of the best bagels around. Staff are always friendly and I've never really had to wait long for my orders other than when they have been super crowded but the food is worth the wait in my opinion.

James Giambrone.
" Food is always fresh staff is always nice and the place is always clean.big thumbs up.

Carlos Cuevas.
" I bought three dozen bagels for a weekend retreat. Ordering was quick and friendly. The bagels went over well, and the leftovers tasted reasonably fresh even a couple days later.

John Cholewa.
" My morning breakfast shop! fresh bagels of alllll kinds! cream cheese with great flavor! Clean store and Great staff!

Sharan H.